Each time our country focuses on the gun debate, a lot of proponents of gun control accuse gun rights advocates of not caring whether people die. It's my impression that gun control proponents believe gun rights advocates disagree with gun control legislation because we are selfish, insane, and possibly sociopathic. If we cared about saving innocent lives, especially those of school children, why would we fight against common sense gun reform? I'd like to offer a few thoughts on how about half of America could disagree with certain gun control proposals for reasons other than mental or moral defect.
1) Gun rights advocates think of each gun policy in terms of a cost benefit analysis. Is there evidence that Policy X will decrease the frequency or lethality of mass shootings or of gun crime in general? How will the policy affect citizens' abilities to defend themselves? Is it Constitutional?
It's my impression that many gun control advocates don't view policy proposals the same way. I've seen a lot to suggest gun control advocates believe (a) few or no people really use their guns in self defense and (b) either the Constitution has been interpreted incorrectly by SCOTUS or, even if the Founders did intend personal gun ownership, their views were borne of circumstances that no longer apply today. And I expect that if I too thought the factors of self-defense and Constitutionality were greatly exaggerated or even made up, I would view certain gun policies very differently. If you don't believe the policy will cost anything substantial, you don't really need to do a cost benefit analysis (and therefore you will have a very different idea of which reforms are "common sense"). I think, generally, that's how most gun control advocates see this, but I'm open to correction there.
2) There seems to be an asymmetry of knowledge about guns between the gun control and gun rights sides, and it influences whether each side thinks a given policy will be effective or have undesirable side effects.
I get how gun rights advocates come off as pedantic when correcting terminology, and it's easy for me to believe that there are people who really are just trying to feel superior or make the other side feel foolish. But I think the terminology and concepts are a lot more than semantics: they are directly relevant to the effects a given policy will have.
And from the gun rights side, it appears that the people most passionate and insistent on certain policies have little understanding of what those policies would mean. I'm really not trying to be rude and I'm sorry if it comes off that way. But the same side posting memes like this…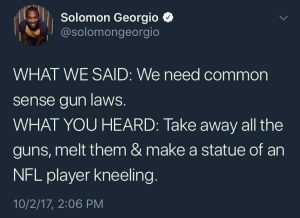 …just proposed legislation that would ban tens of millions of civilian-owned guns.
The bill prohibits the "sale, transfer, production, and importation" of semi-automatic rifles and pistols that can hold a detachable magazine, as well as semi-automatic rifles with a magazine that can hold more than 10 rounds. Additionally, the legislation bans the sale, transfer, production, and importation of semi-automatic shotguns with features such as a pistol grip or detachable stock, and ammunition feeding devices that can hold more than 10 rounds.
For reference, many of the most recommended pistols bought for home defense and as concealed carry firearms are semi-automatic and can hold more than 10 rounds; it's also standard for pistols to have detachable magazines.
I think for the most part the people who support that legislation don't even realize that's what the legislation would do. They believe it would ban only the so-called assault weapons that they further believe are used in most mass shootings. Neither of those beliefs are true.
3) I recognize some gun rights advocates have a knee jerk reaction against any limitation on guns; I think this reaction is primarily due to believing both that the legislation will make no positive difference and that it will be a slippery slope. The general impression from the gun rights side is that the gun control side neither understands guns nor cares how legislation would affect general gun ownership because they don't believe people should have guns in any case. It's not so much "We want to take your guns" as "we don't know or care if the proposals we're pushing will result in taking your guns."
4) That said, there are proposals that even most gun owners would be fine with. Proposals focusing on who can have guns rather than which guns they can have seem to get pretty broad support. For example, Pew Research has found that most gun owners and non-gun owners alike support proposals focused on background checks, mental health issues, and no-fly lists.
More recently there seems to be momentum behind "red flag" measures which would allow authorities to temporarily take guns from people deemed dangerous. Such bills are primarily sponsored by Democrats but are seeing some Republican support too. I think the gun rights side generally believes that proposals that focus on the people rather than the guns are more likely to be both effective and Constitutional.
So why do gun rights advocates fight common sense gun reform? To summarize:
We don't believe many of these policies would accomplish what proponents claim.
We're worried about inhibiting citizen self-defense.
We're concerned about the Constitutionality of some of these policies.
We suspect the people pushing for these reforms don't understand or care about the full effects of these policies.
None of this means we don't care if innocent people are hurt. That's why we do support some gun reforms: specifically the policies we believe will best ensure the safety of ourselves and others while respecting Constitutional rights.